The Original Tour 4 Charity Prague
An unforgettable walking tour with an added feel good factor.

Prague's best tour guides will take you on a three-hour journey through this magical city and along the way you will discover the history, culture, politics, food, legends and hidden gems of the true heart of Europe.
All proceeds of ticket sales going to Chance 4 Children.
Tour starts at 10:15am daily at the Municipal House (Obecní dům), Náměstí Republiky 5 at Metro B (yellow) stop, near Palladium Shopping Mall.
A bit of history about the tour and it's founders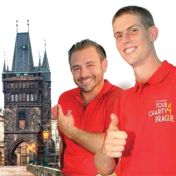 John Paul Franke, an internationally-raised American and former Chance 4 Children (C4C) volunteer, and Ashley McGlynn, from down-under Australia, met as competing free-lance guides in Prague.
Despite being on opposite teams, they soon became friends. Both being the top-rated tour guides in their companies, they began looking into starting something new, as partners. The idea was born of tying their love of tour-guiding to a meaningful and benevolent cause. They selected Chance 4 Children as the beneficiary of their efforts, and the rest is history.
John Paul, Ashley, and their crack team of hand-picked guides hope that through their work - showing off the best of Prague whilst making you laugh and smile - countless children will benefit from Tour 4 Charity and receive the chance that every child deserves.