CURRENTLY UNAVAILABLE
Euro Segway - Prague Segway Tours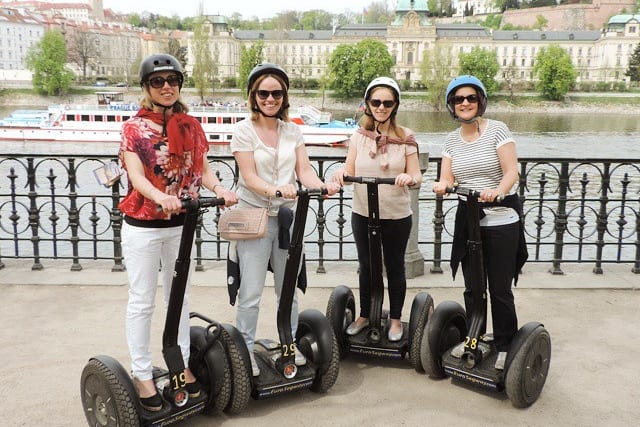 TOUR DESCRIPTION
We have 3 recommended segway tours in Prague on offer.

Segway is one of the best ways to get around Prague!

Not feeling like walking? Thats ok, because we have the answer for you and that is a segway ride around Pragues hard to get to areas.

A popular and fun way to sightsee in the city so why not hop on and speed off on an expertly guided tour of urban Prague. 
MORE INFORMATION
Urban tour
Short on time but determined to see everything Prague has to offer? In 2H Castle tour on Segway you will be introduced to the oldest part of the city with its legendary Prague Castle, largest complex in the world. Visit the most magnificent St. Vitus Cathedral and admire the architectural styles from different epochs. Take a ride on your personal eco-friendly device and get to see the first Premonstratensian monastery in Bohemia – Strahov monastery. Have a look for the highest observation point and taste the best beer with its 600 years history. Marvel the slopes of Brevnov and get individual experience on this Prague Segway tour.
Grand Segway Tour
Are you looking for best way to explore administration part of Prague, prefer to ride or lazy to walk up-hill to discover the Castle and Monastery? We provide the best, unforgettable and interesting option for you to do it, Private Segway tours! You will cover famous landmarks, fabulous views and fascinating hangout spots with your personal guide. Your tour includes Prague Castle (the biggest ancient castle in the world), Embassy area, Czech Technical University, Hadovka Park, Prague's Beverly Hills and Strahov Monastery and many more…
We meet up in our office which is right near Old Town Square. You will meet your personal guide and will take a short transfer by mini-bus to the Segway point. First of all you will have a test drive and the tour will start as soon as all of the members feel well-confident of using Segway.
Get on your Segway and be prepared to fascinate by Grand Segway Tour! The trip is an introductory experience that is suitable for everyone. Trainers are always on hand to assist you and in a matter of minutes you will master this futuristic mobility device. An exciting experience for everyone! Capture your travels on eco-friendly transport Segway and enjoy your trip.
Prague Canyon Tour
If you have already seen the Old Town area and you are looking for unique experience - the Segway ride in National Park Divoka Sarka is the best option for you. Fabulous Segway trip contains the biggest natural reserve with beautiful landmarks and marvelous slopes. This is a challenge for all adventure travellers and emotional enthusiast.
This 3H Segway tour introduces you safe terrains in the neighborhood of Prague 6 district, where you will glide along scenic natural trails on a Segway. Perfect eco adventure which is worth of being shared together!