CURRENTLY UNAVAILABLE
Combined Tours (Euro + Hugo)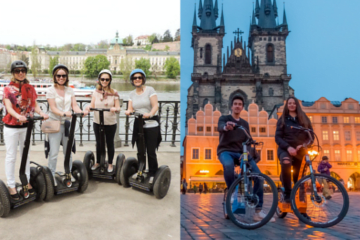 TOUR DESCRIPTION
Combine your two wheeled experience of Prague with this segway and Hugo bike tour package.
Why not take advantage of these two great ways of getting around the city? The combination of Segway and Bike will leave no stone uncovered in the city.
Your guide will make sure you are whisked to all the hotspots in a fun and knowledgeable tour of the city.
MORE INFORMATION
Segway Tour
Are you looking for best way to explore administration part of Prague, prefer to ride or lazy to walk up-hill to discover the Castle and Monastery? We provide the best, unforgettable and interesting option for you to do it, Private Segway tours! You will cover famous landmarks, fabulous views and fascinating hangout spots with your personal guide. Your tour includes Prague Castle (the biggest ancient castle in the world), Embassy area, Czech Technical University, Hadovka Park, Prague's Beverly Hills and Strahov Monastery and many more…
We meet up in our office which is right near Old Town Square. You will meet your personal guide and will take a short transfer by mini-bus to the Segway point. First of all you will have a test drive and the tour will start as soon as all of the members feel well-confident of using Segway.
Get on your Segway and be prepared to fascinate by Grand Segway Tour! The trip is an introductory experience that is suitable for everyone. Trainers are always on hand to assist you and in a matter of minutes you will master this futuristic mobility device. An exciting experience for everyone! Capture your travels on eco-friendly transport Segway and enjoy your trip.
Prague Hugo Bike Tours
Your Hugo E-Scooters tour starts from the Old Town Square that is the most significant square in the historical center. Passing through the 14th century gothic Church of Our Lady, you will get to the famous Old Town Hall dominated by the fascinating medieval Prague astronomical clock, which is the oldest still operating in the whole world. Among others, there is a statue of religious reformer Jan Hus and the Baroque St. Nicolas Church.
Then you will arrive to the Jewish quarter with Europe's oldest active synagogue in the center of it. The beautiful lanes of this quarter will lead you to the breathtaking riverside of the main river Vltava, where while driving along it you will get to the large Letná Park. The edge of the hill is dominated by Prague Metronome and fascinating view of the historical districts of the city. Continuing your adventure through this park, you will ride up to Prague's Castle effortlessly. Take a walk in the largest ancient castle in the world and visit the most important building there – St. Vitus Cathedral.