CURRENTLY UNAVAILABLE
Bohemian Paradise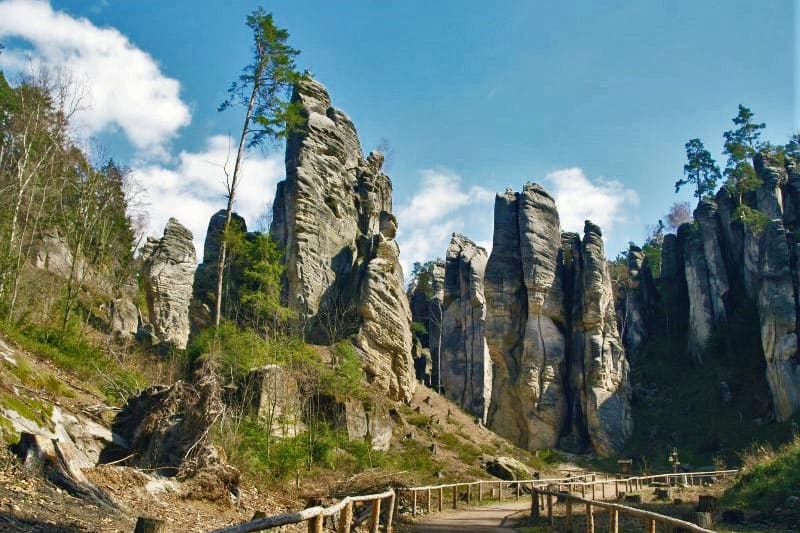 TOUR DESCRIPTION
A truly breahtaking trip to the UNESCO geopark famous for it's incredible rock formations and natural beauty.

Explore the famous and simply breathtaking UNESCO Geopark that is Bohemia Paradise. This natural and protected area was declared in 1955 as the first nature reserve in Czechia. Bohemian Paradise. Discover this unique combination of bizarre rock formations, deep pine forests, majestic castles and sublime villages of timber cottages.
Transport included by train
See the UNESCO paradise
Accompanied by Local guide
MORE INFORMATION
Bohemian Paradise Excursion trip
The tour makes 2 circuits around Malá Skála 14km which is approximately 5-6 hours of walking. The length of the hike can be adjusted in Malá Skála however so if you are feeling a like bit less energetic it can be shortened as per your needs (7km).
Malá Skála has been a destination for both those looking for peace and those in need for adrenalin. The beautiful sandstone formations will leave you breathless and simply in awe, we promise. Escape the busy city and spend some quality time in Czech nature complete with a delicious lunch break in a traditional restaurant where you can taste typical Czech cuisine.
How many days is the trip? 1 day
Meeting point with your guide: Prague, main railway station - Wilsonova 8
Est.distance: 14 km
Transportation: by train
Minimum people for the trip: 2people
Price includes: transport from Prague and back by train, professional local guide
Price excludes: insurance against injury, meal, drinks
The trip is available mostly during the weekends and please contact us to arrange the date of your trip before hand, you can also enjoy this package during the week if you prefer but reservations will need to be confirmed.
IMPORTANT: Prior to making your booking for this service please call or email us to confirm availability/ capacity!+420 776 464 417 / info@sightseeingprague.com