Old town and Medieval Underground tour
You will hear the dark history of Prague's most well known monument, the astronomical clock and the town hall. You will get to step inside the secret alchemyst laboratory and see how they made some of the medicines and poisons to cure and harm. All this and last but not least the dungeons and medieval torture rooms used for some of the most horrific acts throughout the bleakest years of the city.
You will learn interesting facts about the medieval and modern history of the Prague. Hear about the rebellions, defenestrations, executions and the most devastating floods to hit Europe.
Duration: 1 hour
Price: 450czk Adults / 400czk Students
When: Daily at 11h00, 13h00, 15h00, 17h00
Meeting Point Information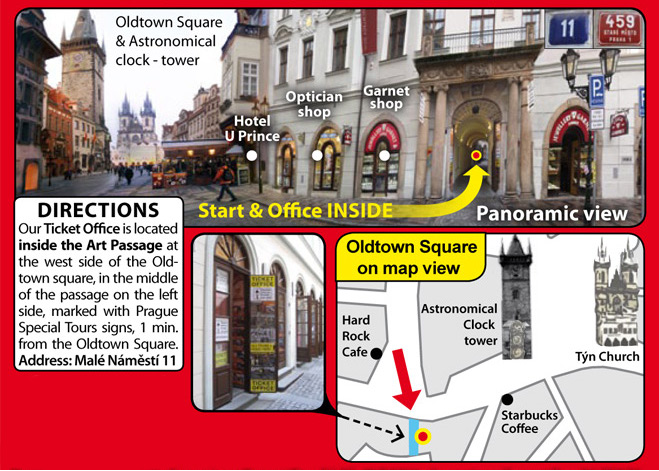 Includes 24 hours Hop on Hop Off
All of our line routes have built in guided audio telling tales of the city as we whisk you around Prague's historical hot spots. We have seven languages available on the buses as well as a staff member on board to assist you with any questions or queries you may have.
The voucher is valid on all buses and can be used throughout your selected period of time. The red line, with the option of open top, takes you to those hard to reach places in the city by foot such as The Castle, Strahov Stadium and Strahov monastery. On the red line you can choose to hop off at any of these points, where we have designated City sightseeing Bus stops and timetables so you can plan your return easily or head on to the next point of interest.
The Blue line is a route that really penetrates the heart of the city and whisks you through the Old Town and historical centre. We have inner city buses which will allow you to hear stories of the more central iconic landmarks such as The Rudolfinum, The Jewish quarters and St Nikolas Church. Our buses are air conditioned for your comfort and you can also choose to hop off at any of the stops to see a point of interest or change to our red line. We have recently updated our audio stories on the bus so feel free to sample our latest edition.
You can collect a route map from our office on 15 Celetna or alternatively download a PDF map from our bus map lines and schedules page.